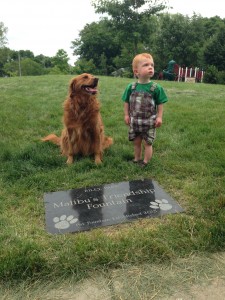 A dedication for Malibu's Friendship Fountain was held on Saturday, June 6, at Riley Park in the Merle Hay neighborhood.
Merle Hay resident Tracy Struble started the fountain project to honor her beloved dog, Malibu, who passed away. Malibu loved Riley Park, and made lots of friend there.
If you would like to donate to help fund Malibu's Friendship Fountain, visit http://www.gofundme.com/h3fd9c.
Or:
Send check payable to "Malibu Friendship Fountain" to 2917 54th St., Des Moines, IA 50310.
At any Community Choice Credit Union – "Malibu Friendship Fountain."
Thanks to Tracy for making Malibu's Friendship Fountain a reality! It is a truly wonderful addition to Riley Park!